The Massena Little Leagueis absolutely gutted to announce that the two story building at the Leo Lashomb Field has burned down. It is a complete loss.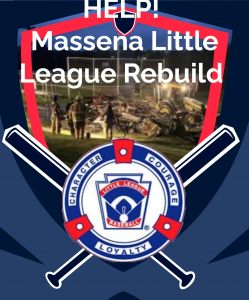 This building held every single piece of equipment that belongs to Massena Little League… every bat, every ball, every pad, pitching machines… all of it. The tractor is gone, everything from concession is gone, and every old uniform/trophy is gone.
This building has served Massena Little League for decades and holds countless memories for players from many generations.
While the memories can't be replaced, we will do our best to rebuild and continue providing Massena's youth with a place to play baseball.
Upon speaking with the insurance companies this morning, they discovered that we only have liability insurance, which means the building and all of its contents are NOT COVERED.
This is devastating news.
This Go Fund Me is going to be key in the rebuild. Please share far and wide for
Massena Little League
. We will need to construct a new building and purchase all new equipment, field tools, tractor, etc.
Every penny helps, and every share helps!!!
https://1015thefox.com/events/benefit-the-massena-little-league-and-the-rebuilding-of-their-building/