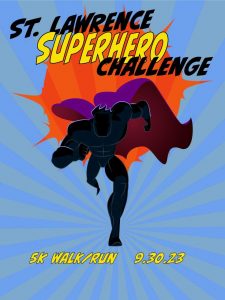 The Massena Hospital Foundation is hosting our the St. Lawrence Superhero 5K Challenge on Saturday, September 30th, starting at 9am at the Richard's Landing Bike Trail, Rt 131 in Massena. The MH Foundation has always referred to Massena Hospital employees at Superheroes…and this is a great way to honor these dedicated employees, and enjoy a scenic walk/run along the mighty St. Lawrence River Registration fee is $25.00 for participants age 10 and up. The first 100 finishers will receive a Superhero Medal, sponsored by Excellus BlueCross BlueShield. Participants are encouraged to dress in Superhero costumes and capes. Everyone in a costume will have their name entered into a drawing for a great prize. For more information, message the Massena Hospital Foundation Facebook page, email julianne.fowler@rochesterregional.org or call 315-769-4273. The registration form can be found by following this link:
https://forms.gle/Rizh7eex51cH8CWT8
. We ask that no dogs be brought to the walk.